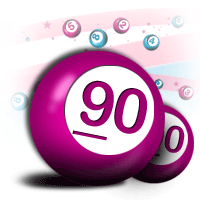 90 Ball Bingo is the Bingo variant most popular in the UK as well as other parts of Europe. The game is played on a 3×9 card, with three horizontal lines and nine columns. Each card has 15 numbers in total, 5 numbers in each line. The first column contains numbers from 1-9, the second column contains numbers from 10-19, the third column contains numbers from 20-29, all the way through to the final column which contains numbers from 80-90.

Top 3 International Online Casinos

Casino
Bonus
Info



888 Casino
100% up to 140€


Huge Live Casino
Live Casino Bonus


Play


22BET Casino
100% up to 300€


Many Game Suppliers
Many Deposit Methodes


Play


20Bet Casino
100% up to 120€


Special loyalty programs
Daily Bonuses


Play

You can usually win 3 different prizes in game of 90 Ball Bingo: one line, two lines and full house. To complete "one line", players need to mark a complete horizontal line across one card that is, to maek 5 numbers). For "two lines", players must complete any two horizontal lines across one card (that is, to mark 10 numbers). Finally, a "full house" means all the numbers marked off on one card (all 15 numbers).
To play 90 Ball Bingo online, click here
Avi Fichtner Owner of worldcasinos.info
Avi Fichtner has turned his hobby into a profession. His interest in casino games and poker led to the creation of a startup that has now become a successful company in the gambling industry. Avi and his team professionally test online casino providers and share their personal experiences. Avi lives in Berlin with his wife and three children and is a passionate diver and endurance athlete. Learn more about Avi.